About Alpha Power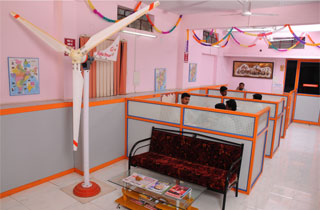 We Alpha Power , is an ISI & ISO 9001 certified company founded by our parent Company "Alfa Engineering Works" in 2005 as a dedicated direct Manufacturing & Marketing subsidiary for Promoting On-Grid/Off-Grid Renewable Energy Systems especially in the field of Micro Wind Turbines & Solar Photovoltaic Sytems either induvidually or with the combination of both (Hybrid Systems) suitable for Industrial & Domestic Purposes.
Our parent company M/s Alfa Engineering Works is an Independent and World Wide Active company founded in 1995 basically in the field of Manufacturing Major & Highly Technical components for Commerical Wind Mills viz Main Rotor Hub, Hydraulic Brakes, Blade Flanges,Slow Speed Breaks, High Speed Breaks, Break discs, Yaw cylinder,Centrifugal switches etc., starting from the capacity of 250 KW to 3.0 MW.
With the perfect blend of Experienced Professionals along with Top Quality Engineering Strictly in compliance with the International Standards our company has 1000+ references across the world. With the specialization in new dimensional approach & understanding the energy demands for the Nation, the company has started manufacturing indigenously High Efficient Small Wind Generators with the Experience & Expertise by our Technical Directors Mr S. Murugesan & Mr P. Rajini Prakash, under the Consultation of German Design Engineer Mr.Ulrich.H.Harry (Having 20 years exprience in Commercial Wind Turbine Designing & Development).
Alpha Power has equipped with dedicated Research and Development team along with world class manufacturing facilities the company can manufacture full fledge all the required components in-house with Top Quality Engineering for the Domestic Wind Generators starting form the range of 1.8 KW to 10.8 KW. With the unique designing and engineering of our Turbines, Blades & Controllers guaranteed to deliver more than the capacity rated through out the year to make our customers energy self reliant.
Alpha Power has developed deep customer insight and technological skill-sets and provides quality and reliable offshore and onsite services. The company is spearheaded by team of highly qualified professionals with experience in International product development and management of large projects.
Our Mission
• To supply cost effective, mission critical Custom based Products in domains of our expertise and deliver time bound practical solutions to all our clients.
Quality Statement
• To provide highest quality of product development Custom based solution and services that will put our clients business on the cutting edge all over the world and to enhance their satisfaction by continual improvement of our systems.

Management Philosophy
The management operates under the three principles of integrity, innovation and initiative (3I's).
• Integrity forms the basis of our relationship with our clients.
• Innovation enables us to serve our clients with advanced technology as well as new range of products and services.
• Initiative prepares us to look ahead into the future and act swiftly towards the ever-changing market we are facing with.

Our Services
The company's service portfolio includes customer requirement study, formulating specs, designing, developing, quality assurance, benchmarking, documenting, implementing, integrating, training, maintaining and providing after sales support. We are primed to provide our esteemed clients with top-class functional and technical services in all areas of our portfolios like:
• Manufacturers of Renewable Energy Products
o Domestic Wind Mills
o Solar Photovoltaic Panels.
o Water Pumping Wind Mills.